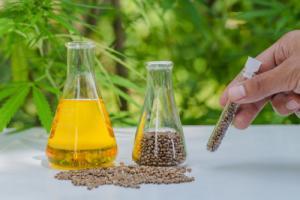 CBD gummies are a fun way to intake CBD into your body. For those, who don't enjoy other consumption methods like tinctures, vapes, or topical, CBD gummies are a perfect choice. They are a very convenient and effective method to consume CBD. All you need to do is chew it like a candy, enjoy the taste, and swallow it. They come in a variety of flavors that makes it delicious to eat.
What are CBD Gummies?
CBD gummies are the edible CBD products that are infused with highly concentrated CBD oil. They are not as fast acting as other CBD products, but CBD gummies effect lasts for a longer time. CBD gummies come with a variety of flavors. They are also available in different shapes such as Gummy Bears, Sour Worms, Sour Rings, etc.
When you eat a CBD gummy, the body will digest the CBD and it will react with the cannabinoid receptors and activate the endocannabinoid system. This interaction creates a feeling of relaxation that helps in the treatment of stress, anxiety and depression.
How are CBD Gummies Made?
Making of CBD gummies start with the extraction of CBD from hemp plant. CBD is one of the many useful compounds found in natural hemp. Most of the products are made with full spectrum CBD oil that contains many of the useful compounds of hemp plant. Some other products are made with pure CBD in the form of CBD isolate.
The only difference between CBD gummies and regular gummies is that CBD extract is infused into the gelatin. The infusion of CBD oil gives a whole lot of medicinal properties to the gummies. Manufacturers make CBD gummies with professional equipments for its mass production. But it is also possible to make CBD gummies at home.
Make CBD Gummies at Your Home?
Preparing CBD gummies in your home is not an easy task. It takes a lot of time and effort. You should have the right ingredients, right cooking equipments and a good knowledge on how to mix the required ingredients. You can either make CBD gummies with full spectrum hemp oil or CBD isolate. Keep in mind that both of them have different concentrate of CBD, so decide how much do you want to add in the gummies.
Important ingredients that are needed to prepare CBD gummies are:
CBD isolate or full spectrum hemp oil
1 tablespoon lemon juice
1 pack of gelatin
1 tablespoon of sugar
2 tablespoons of honey
Silicone mold of choice
Combine all the ingredients except gelatin and CBD into a pan and heat it. Gradually whisk gelatin into the mixture. Stir continuously until the gelatin melts. Slowly add the CBD isolate or full spectrum hemp oil to the mixture and stir it continuously. Pour the CBD infused mixture into the silicone mold and freeze it for 30 minutes. Remove the mold and take out your CBD gummies.