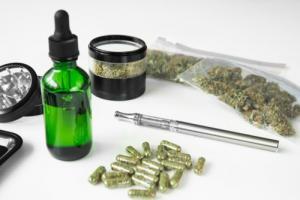 The rise in popularity of the CBD has resulted in the introduction of many new CBD products in the market. One such product is the CBD gummies. They are the normal gummy bears infused with CBD oil. CBD gummies are marketed as a "coolest" way of consuming CBD. But they are not so effective in providing the therapeutic effects of CBD as the CBD capsules.
Many of the experts are suggesting using CBD capsules over CBD gummies to get all the potential health benefits of the CBD.  Even though both of them are edible CBD products, they have a lot of differences in many aspects. Let's take a look at the advantages of CBD capsules over CBD gummies.
More CBD content
We use different CBD products for getting the health benefits offered by Cannabidiol. Therefore, the product we choose should have enough CBD content to provide health benefits. When compared to CBD capsules, the CBD content in these gummies is very low. The CBD capsules are designed to be absorbed by the body quickly. On the other hand, CBD gummies rely on the digestive enzymes in the body to get digested.
The digestive process is not always consistent.  Therefore, we cannot always ensure the full absorption of CBD when we use CBD gummies. CBD capsules are not affected by what's happening in the digestive system and deliver CBD to the body more consistently than CBD gummies.
Contain Additional Healthy Ingredients
One of the major advantages of CBD capsules is that other healthy ingredients like vitamins and nutrients can be added in a CBD capsule. These additional ingredients provide more health benefits to the user. But additional ingredients cannot be added to CBD gummies because it may change the composition of the preservatives that are already present in them.
Better Absorption
The bioavailability of CBD gummies is way lower than CBD capsules. It is one of the essential factors that you should consider before choosing between CBD capsules and CBD gummies. When you consume CBD gummies, it is absorbed into the body through the digestive process, which takes almost six hours to complete. For those who need immediate relief, waiting that long is not an option. When you consume CBD capsules, the coating of the capsule ensures that CBD content in the capsule is absorbed quickly and more evenly.
Less Expensive
CBD gummies may be delicious, but they are very expensive also. They contain a lot of sugar to make them taste better. When you start looking at how much CBD you get per gummy and its effectiveness, you will realize than you are paying more than they deserve.